TEETHER & CHEWY PRODUCTS
Provide smooth mouthing surface for infants who are developing early mouthing skills and offer resistant surface for chewing.
Dessert Mouth Toy (set of 4): Assortment of tempting teethers. Collection includes fun and munchable snacks.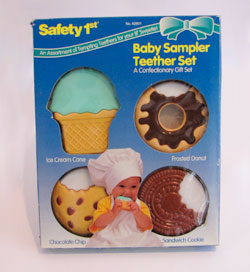 Fingers and Toes Teether: Babies love to nibble on their fingers and toes and can get teething relief at the same time. The fingers and toes teether is soft and chewy for tender gums. Perfect shape to grasp and hold.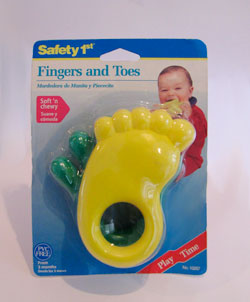 Scented Teether: Gerber´s scented teether will help to relieve the baby's gum during teething. Nubby, yet soft, it textures massages and stimulates sensitive gums.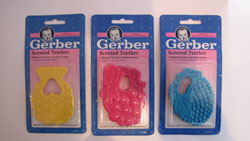 Textured Teethers: Multi-textures discs designed to help soothe sensitive gums. It comes in an assortment of fun shapes, colors and textures which will be pleasing to the baby's sense of sight and touch.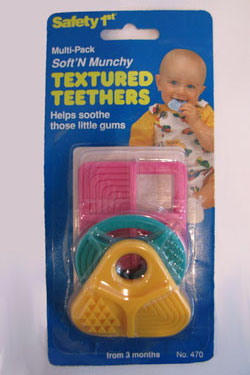 Teether Ball: Excellent for teething, designed for easy gripping. Squeaks when squeezed.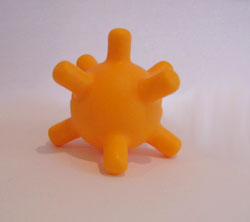 Terry Ducky: Easy-grasp shape for small hands. Soft, huggable and squeaky.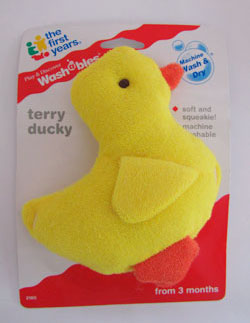 Gummy Yummy: The Bite Stuff. Cheerful cherry color and friendly shape. Attracts baby's visual interest of discovering the toy's varied surface with her tongue and gums, rewarding her hand-to-mouth instincts soothed by the toy's many fun-to-gum features.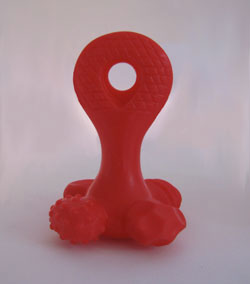 Textured Turtle: Soft and squeezes.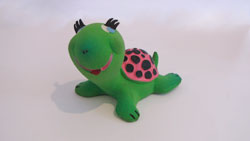 Soft charms: Links help a young child to develop small motor skills.
The charms are strung on strong plastic cords and a patented ring-lock design lets the charms move freely while preventing them from breaking loose. Easy-grasp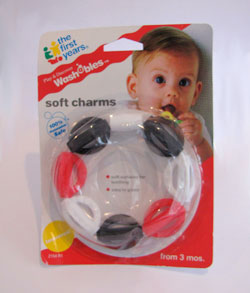 Infant-toddler toothcare training kit: Includes a toothcare trainer teething ring and infant-toddel safety toothbrush. Safe introduction of dental care.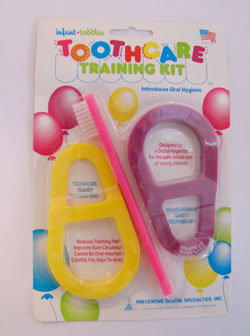 Teethersaurus (set of 3): Dinosaur shaped teethers. Unique combination of hard and soft plastic providing soothing relief while colourful and cute dinosaur designs will dazzle them.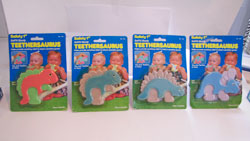 Curly Coil Teether: Chewy, movable coils. Hard and soft teething surfaces. Colors and shapes add visual interest.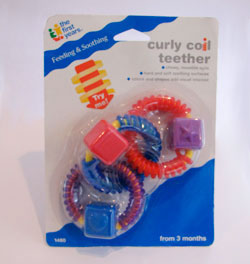 Massaging action teether: Most teething infants are soothed by gentle, active massaging of their gums. Light weight and easy to grasp. A great substitute for chewing on fingers.
The youngest children can actually massage their own gums.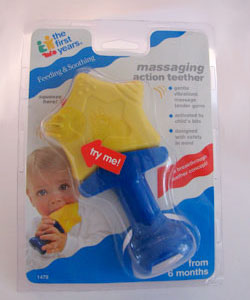 Curious Starfish: The first year curious starfish helps to satisfy the baby's curiosity by inviting him to look, listen and touch. This cuddly, colourful friend will respond with fun sources.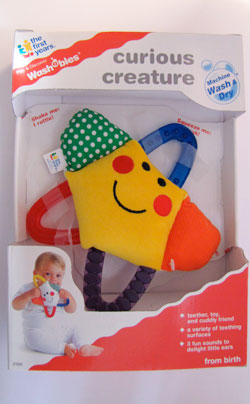 Sassy Lively Links: It develops moving and exploring by encouraging babies' grasp reflex and providing something stimulating to look at, swipe at and reach for.