Electro- stimulators


ITO IC-107+: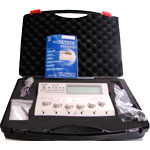 Smallest electro-acupuncture unit: Three output channels, three frequency levels, pulse rate indicator, battery checker. 9V battery power source.

AWQ-104L: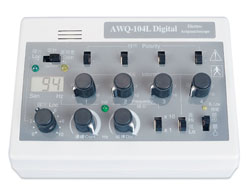 Digital Electronic Acupunctoscope: Four outputs. Digital display in Hz to show the frequency, digital display in numerical to show the sensitivity during point detection. Loc/Needle/Stim awitch for selection of point location, needle treatment and direct stimulation by probe. One of the most powerful acupuncture stimulators available today.

SDZ-III/IV: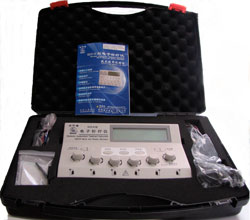 Nerve and Muscle Stimulator: Electronic Acupuncture Treatment Instrument based on the traditional SDZ series and combined modern high-tech with traditional Chinese medicine theory. For application low frequency pulse to stimulate the acupoints of human body.
Product No: EA HW/SDZ-III/IV
ACUPUNCTURE STIMULATOR/T.E.N.S.
Model AWQ-105 PRO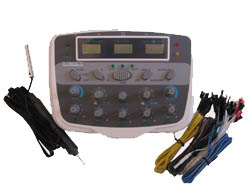 AWQ-105 PRO Acupuncture Stimulator is a professional, brand new unit from the AWQ line with 5 channels. It comes with a modern design and inherits the features of AWQ-series acupunctoscope. This professional unit provides multiple functions and features, which are essential in daily acupuncture practice.
"The AWQ-105 Pro is the newest electro-therapy unit in the AWQ line, featuring 4 e-stim output channels and an additional channel dedicated to the search-to-treat probe. The 4 e-stim channels are separated into two groups (group 1 - channels 1 & 2, group 2 - channels 3 & 4) allowing each group to vary their frequency and pulse width independently. The unit also offers three pulse modes (continuous, modulate and burst), a hi/low voltage switch, 3 LCD displays, a 15/30 minute timer and built in anti-shock safety feature (note: timer and anti-shock alarm play a tune when triggered). The unit is powered by 6 C cell batteries or the included a/c adapter.

Featuring a unique search-to-treat probe, the AWQ-105 Pro allows the practitioner to locate and immediately stimulate the point by using the probe's stimulation capabilities. Two interchangeable tips are provided for the probe, used for ear and body points. The probe measures 6" x 0.7" dia. and has a 6' long power chord.

Accessories include: search-to-treat probe with grounding pole, body and ear probe tips, 4 sets of TENS lead wires, 8 duck beak clips, a/c adapter and instructions. There is a 1 year limited warranty on this device."
Product No: EA/AWQ-105 PRO