Magnets and Pellets
Magrain: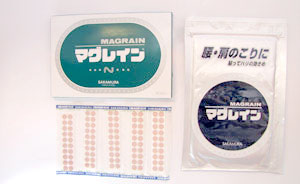 Gold plated grain, each grain planted in medical adhesive
For ear and body points acupressure.
Size: 1.2mm, plaster 6mm
Pack of 300 pellets.

Accuband:
Magnet emitting constant pressure and magnetic flux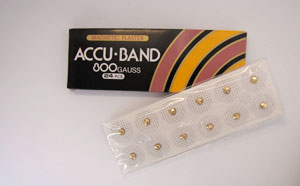 Gold plated, 800 gauss.
Box of 24 pieces.
Product No: ACCUB/800G

Magnetic Balls:
Pair of two chrome plated plastic balls. Each ball contains 1,000 Gauss magnets. Releases fatigue, restores vigor by forming magnetic field return circuit trough N and S poles. Comfortable for massage and stimulation of acupoints on palm or foot sole. Healthy tool and easy to carry.
Package of two.